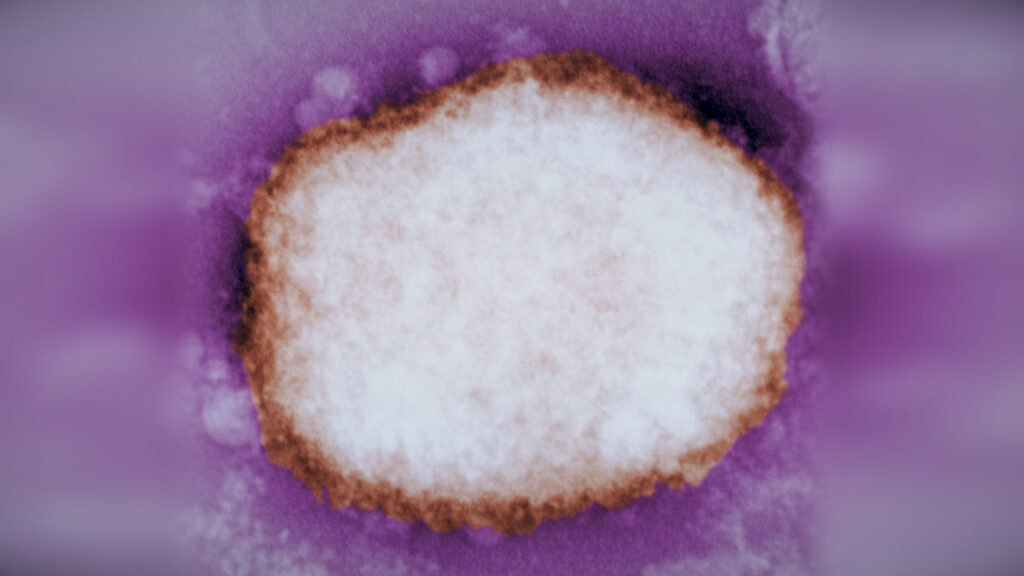 In this post " Monkeypox -What do we know? " we reprint data published by the CDC on the origins, signs, symptoms, prevention, and treatment of Monkeypox.
Monkeypox is a rare disease that is caused by infection with monkeypox virus. Monkeypox virus belongs to the Orthopoxvirus genus in the family Poxviridae. The Orthopoxvirus genus also includes variola virus (which causes smallpox), vaccinia virus (used in the smallpox vaccine), and cowpox virus.
Monkeypox was first discovered in 1958 when two outbreaks of a pox-like disease occurred in colonies of monkeys kept for research, hence the name 'monkeypox.' The first human case of monkeypox was recorded in 1970 in the Democratic Republic of the Congo (DRC) during a period of intensified effort to eliminate smallpox. Since then, monkeypox has been reported in people in several other central and western African countries: Cameroon, Central African Republic, Cote d'Ivoire, Democratic Republic of the Congo, Gabon, Liberia, Nigeria, Republic of the Congo, and Sierra Leone. The majority of infections are in Democratic Republic of the Congo.
Monkeypox cases in people have occurred outside of Africa linked to international travel or imported animals, including cases in the United States, as well as Israel, Singapore, and the United Kingdom.
The natural reservoir of monkeypox remains unknown. However, African rodents and non-human primates (like monkeys) may harbor the virus and infect people.
Signs and Symptoms
n humans, the symptoms of monkeypox are similar to but milder than the symptoms of smallpox. Monkeypox begins with fever, headache, muscle aches, and exhaustion. The main difference between symptoms of smallpox and monkeypox is that monkeypox causes lymph nodes to swell (lymphadenopathy) while smallpox does not. The incubation period (time from infection to symptoms) for monkeypox is usually 7−14 days but can range from 5−21 days.
The illness begins with:
Fever
Headache
Muscle aches
Backache
Swollen lymph nodes
Chills
Exhaustion
Within 1 to 3 days (sometimes longer) after the appearance of fever, the patient develops a rash, often beginning on the face then spreading to other parts of the body.
Lesions progress through the following stages before falling off:
Macules
Papules
Vesicles
Pustules
Scabs
The illness typically lasts for 2−4 weeks. In Africa, monkeypox has been shown to cause death in as many as 1 in 10 persons who contract the disease.
Transmission
Monkeypox virus can spread when a person comes into contact with the virus from an infected animal, infected person, or materials contaminated with the virus. The virus can also cross the placenta from the mother to her fetus. Monkeypox virus may spread from animals to people through the bite or scratch of an infected animal, by handling wild game, or through the use of products made from infected animals. The virus may also spread through direct contact with body fluids or sores on an infected person or with materials that have touched body fluids or sores, such as clothing or linens.
Monkeypox spreads between people primarily through direct contact with infectious sores, scabs, or body fluids. It also can be spread by respiratory secretions during prolonged, face-to-face contact. Monkeypox can spread during intimate contact between people, including during sex, as well as activities like kissing, cuddling, or touching parts of the body with monkeypox sores. At this time, it is not known if monkeypox can spread through semen or vaginal fluids.
It is not yet known what animal maintains the virus in nature, although African rodents are suspected to play a part in monkeypox transmission to people.
Prevention
There are number of measures that can be taken to prevent infection with monkeypox virus:
Avoid contact with animals that could harbor the virus (including animals that are sick or that have been found dead in areas where monkeypox occurs).
Avoid contact with any materials, such as bedding, that has been in contact with a sick animal.
Isolate infected patients from others who could be at risk for infection.
Practice good hand hygiene after contact with infected animals or humans. For example, washing your hands with soap and water or using an alcohol-based hand sanitizer.
Use personal protective equipment (PPE) when caring for patients.
Practice good hand hygiene after contact with infected animals or humans.
JYNNEOSTM  (also known as Imvamune or Imvanex) is an attenuated live virus vaccine which has been approved by the U.S. Food and Drug Administration for the prevention of monkeypox. On November 3, 2021, the Advisory Committee on Immunization Practices (ACIP) voted to recommend JYNNEOS pre-exposure prophylaxis as an alternative to ACAM2000 for certain persons at risk for exposure to orthopoxviruses.
Treatment
Many individuals infected with monkeypox virus have a mild, self-limiting disease course in the absence of specific therapy. However, the prognosis for monkeypox depends on multiple factors such as previous vaccination status, initial health status, concurrent illnesses, and comorbidities among others. People who should be considered for treatment following consultation with CDC might include:
People with severe disease (e.g., hemorrhagic disease, confluent lesions, sepsis, encephalitis, or other conditions requiring hospitalization)
People who may be at high risk of severe disease:

People with immunocompromise (e.g., human immunodeficiency virus/acquired immune deficiency syndrome infection, leukemia, lymphoma, generalized malignancy, solid organ transplantation, therapy with alkylating agents, antimetabolites, radiation, tumor necrosis factor inhibitors, high-dose corticosteroids, being a recipient with hematopoietic stem cell transplant <24 months post-transplant or ≥24 months but with graft-versus-host disease or disease relapse, or having autoimmune disease with immunodeficiency as a clinical component)1
Pediatric populations, particularly patients younger than 8 years of age2
Pregnant or breastfeeding women3
People with a history or presence of atopic dermatitis, people with other active exfoliative skin conditions (e.g., eczema, burns, impetigo, varicella zoster virus infection, herpes simplex virus infection, severe acne, severe diaper dermatitis with extensive areas of denuded skin, psoriasis, or Darier disease [keratosis follicularis])
People with one or more complications (e.g., secondary bacterial skin infection; gastroenteritis with severe nausea/vomiting, diarrhea, or dehydration; bronchopneumonia; concurrent disease or other comorbidities)4

People with monkeypox virus aberrant infections that include its accidental implantation in eyes, mouth, or other anatomical areas where monkeypox virus infection might constitute a special hazard (e.g., the genitals or anus)
Medical Countermeasures Available for the Treatment of Monkeypox
Currently there is no specific treatment approved for monkeypox virus infections. However, antivirals developed for use in patients with smallpox may prove beneficial. The following medical countermeasures are currently available from the Strategic National Stockpile (SNS) as options for the treatment of monkeypox:
Tecovirimat (also known as TPOXX) is an antiviral medication that is approved by the United States Food and Drug Administration (FDA) [PDF – 24 pages] for the treatment of smallpox in adults and children. CDC holds an expanded access protocol (sometimes called "compassionate use") that allows for the use of stockpiled tecovirimat to treat monkeypox during an outbreak. Tecovirimat is available as a pill or an injection. For children who weigh less than 28.6 pounds, the capsule can be opened and medicine mixed with semi-solid food.
Cidofovir (also known as Vistide) is an antiviral medication that is approved by the FDA [PDF – 6 pages] for the treatment of cytomegalovirus (CMV) retinitis in patients with Acquired Immunodeficiency Syndrome (AIDS). CDC holds an holds an expanded access protocol that allows for the use of stockpiled Cidofovir for the treatment of orthopoxviruses (including monkeypox) in an outbreak.
Vaccinia Immune Globulin Intravenous (VIGIV) is licensed by FDA for the treatment of complications due to vaccinia vaccination including eczema vaccinatum, progressive vaccinia, severe generalized vaccinia, vaccinia infections in individuals who have skin conditions, and aberrant infections induced by vaccinia virus (except in cases of isolated keratitis). CDC holds an expanded access protocol that allows for the use of stockpiled VIGIV for the treatment of orthopoxviruses (including monkeypox) in an outbreak.
Brincidofovir (also known as Tembexa) is an antiviral medication that was approved by the FDA [PDF – 21 pages] on June 4, 2021 for the treatment of human smallpox disease in adult and pediatric patients, including neonates. CDC is currently developing an EA-IND to help facilitate use of Brincidofovir as a treatment for monkeypox. However, Brincidofovir is not currently available from the SNS.
Additional information about infectious disease guidelines for diagnosis and treatment can be found on our treatment guidance page here, as well as our COVID-19 page.
אבעבועות הקופים היא מחלה נדירה הנגרמת מזיהום בנגיף אבעבועות הקופים.
אבעבועות הקופים התגלו לראשונה בשנת 1958 כאשר שתי התפרצויות של מחלה דמוית אבעבועות התרחשו במושבות של קופים שנשמרו למחקר, ומכאן השם 'אבעבועות הקופים'. המקרה הראשון של אבעבועות הקופים תועד בשנת 1970 ברפובליקה הדמוקרטית של קונגו (DRC ) במהלך תקופה של מאמץ מוגבר להעלמת אבעבועות שחורות. מאז, דווח על אבעבועות רוח באנשים במספר מדינות אחרות במרכז ומערב אפריקה: קמרון, הרפובליקה המרכז אפריקאית, חוף השנהב, הרפובליקה הדמוקרטית של קונגו, גבון, ליבריה, ניגריה, הרפובליקה של קונגו וסיירה לאון. רוב הזיהומים הם ברפובליקה הדמוקרטית של קונגו.
מקרים של אבעבועות רוח באנשים התרחשו מחוץ לאפריקה הקשורים לנסיעות בינלאומיות או לבעלי חיים מיובאים, כולל מקרים בארצות הברית, כמו גם בישראל, סינגפור ובריטניה.
אפשר למצוא עוד מידע על מחלות זיהומיות וטיפולם ב יואל קסלר .קום